TAINT BIOGRAPHY 2010 - ALL BEES TO THE SEA!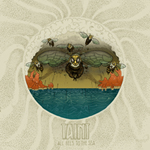 With 'All Bees To The Sea' Taint have upped their ante again, with four brand new, barnstorming classics. Culminating with the 12-minute title track, and the electrically charged live set from Taint's Roadburn 2008 festival, you'll agree that this release will stand alone in it's own right. In 'All Bees..' Taint have continued to blissfully marry the righteous riff, the pocket groove and the soul searching melody they're renowned for. James 'Jimbob' Isaac's vocals have taken another evolutionary step, with a broader range and even more emotive quality. The spit n' bile is still present however, and makes for stellar company in his acerbic out pourings and canny, lyrical twisty turns. The sum of Taint's parts contain three often disparate personalities, providing a constant push-pull of rythmic intensity and riff heavy bombast with Alex Harries' groove drenched swing ever present behind the kit. While Chris West's complex and dirt-infused bass lines creep and crawl all over you. Jimbob's fretboard is also in no danger of neglect, and is treated to all the kinds of heavy handed riffing, progressive exploration and melodic dischordance that you've come to expect.
Thematically, 'All Bees..' is a call to escape. With the hand-drawn and gorgeously coloured artwork by Jimbob, this EP can bee seen as Taint shedding the negative baggage that followed 'Secrets And Lies' and a roll call to the fellow man (or bee) to join them in convoy to the glorious seas, and pastures beyond.
Taint have continued to forge their unique and enigmatic brand of heavy rock, since their 1994 inception in South Wales. Their debut full-length 'The Ruin Of Nova Roma' (2005) and follow up 'Secrets And Lies' (2007) on Lee Dorian's Rise Above records established them as fully paid up contenders in the broader spectrum of heavy weight bands. Cutting their teeth in the early '90s d.i.y scene, Taint have retained their hardcore pugnacity while exploring more progressive avenues, thanks to their childhood influences of all things classic rock. A kid brought up on Sabbath and Led Zepplin, followed by an ongoing love affair with bands like Sepultura, Helmet, Clutch and Quicksand can't go too wrong right?
The South Wales power-trio have infiltrated every other corner of the UK/EU, with headlining tours reaching as far as Scandinavia, Portugal, Macedonia, Greece and everywhere in between. Continuing to hone their craft has paid off, seeing them honour prestigious invitations to play the Hellfest, SWR, Roadburn and Damnation Festivals. Outings with Maryland's forefathers of groove Clutch, and a personally invited support to Oakland legends of heavy Neurosis has put them in ideal company, and furthered their vision to those lucky and chosen few.
All Bees to the Sea!